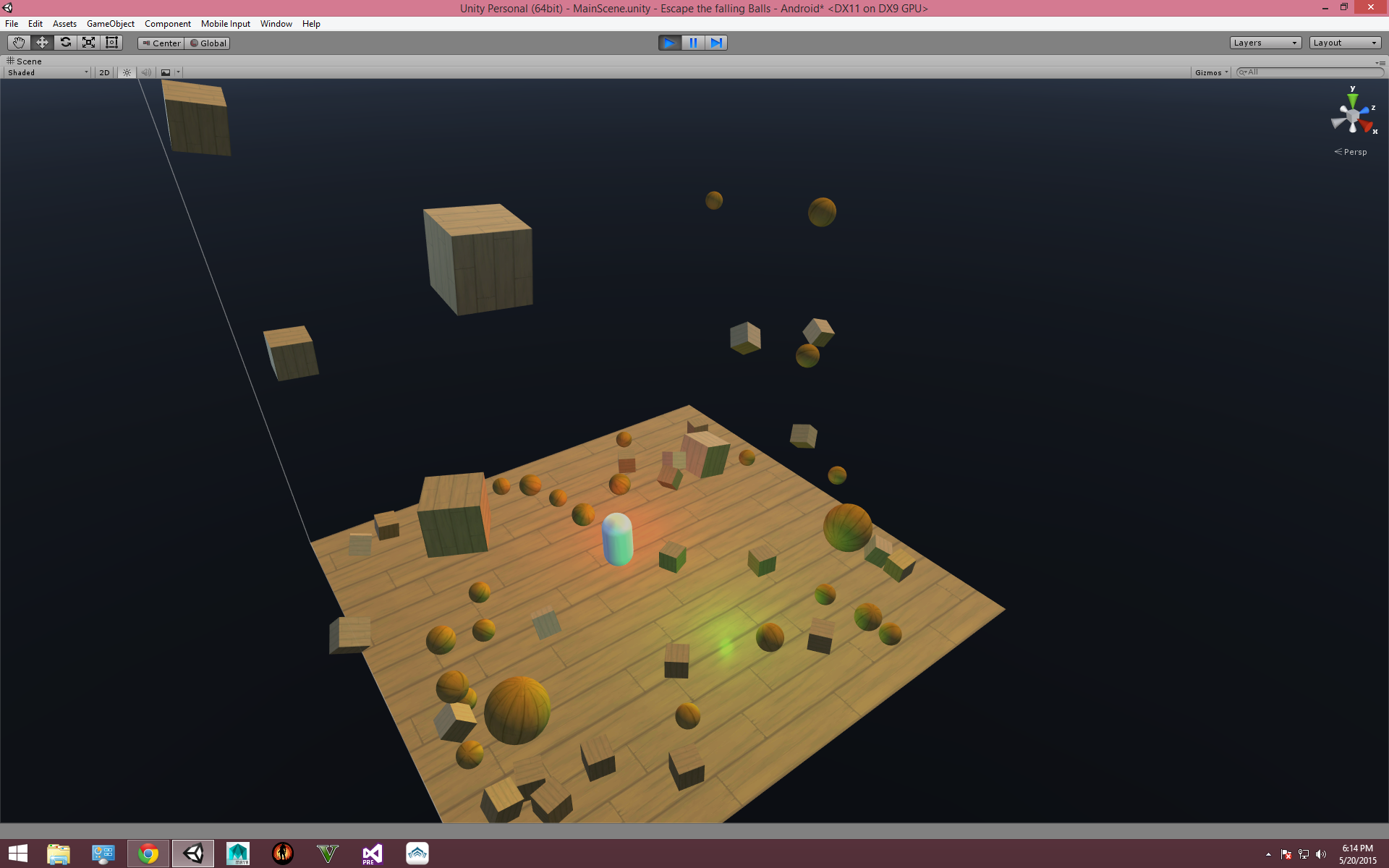 Escape the Geometry
A downloadable game for Windows and Android
I am a 16 year old boy who loves to make video games. I started to make games in Unity3D since i'm 13, and I loved it from Day 1. This is my first Game, I made it because of a Challenge, a 10 Hour Challenge, the name says it all you have 10 Hours and you gotta make a Game in that time, as good as you can obviously.
The Game is about a player who has to avoid falling Cubes and Balls (geometry :P) it's made very simple but i did it because of educational purposes, and by the way i learned very much by doing it.
If you have any questions/suggestions email me please jorge.paravicini@hotmail.co
I hope you enjoy playing it as much as i enjoyed programming it.
PS: The Android download is in a test phase.
-Jorge Paravicini, alias skullbeats1
Install instructions
-Windows:
Just Download the Game, unrar it and exexute the Escape the Geometry file, (the file with the cube, Unity image)
-Android:
Before you can install it on your phone you will need to make sure that third-party apps are allowed on your device. Go to Menu > Settings > Security > and check "Unknown Sources" to allow your phone to install apps from sources other than the Google Play Store. If you like, you can also download an app like ES File Explorer so you can easily find files on your Android device.

Once you have downloaded the file on your computer, connect your device to it. At this point, you may be asked if you simply want to charge your phone or connect it as a "media device." Choose "media device". Then, simply find your phone's folder on your computer (it will be in "My Computer" or "Computer" on Windows machines) and copy the APK file into a folder of your choice in your Android smartphone.
You will now be able to search for the file location in the "my files" folder on your device. Find the APK file, tap it, then tap "install". And you're done.
How to Install APK Files from Your Browser
You can also install APK files from the browser on your Android smartphone or tablet. Just open your browser, find the APK file you want to download, and tap it - you should then be able to see it downloading on the top bar of your device. Once it's downloaded, open your "downloads", tap on the .apk file, and tap "yes" when prompted. The app will begin installing on your device. Simple.
That's basically all there is to it. Installing APKs opens up a whole new world of opportunity to give niche or hard-to-come-by apps a try. Have a go yourself and let us know how you get on in the comments.
-Source:
http://www.androidpit.com/android-for-beginners-what-is-an-apk-file